Every company has the need to grow, to constantly develop itself and to find new ways to tackle problems. Organisational growth is only possible with the help of the most important company resource: the employees. When considering growing your company in an uncertain and volatile world, one thing becomes apparent right away: for a successful organisation you need employees that engage in lifelong learning and are willing to develop themselves. This is where SkillFull comes in to save the day! With a clear focus on the most essential 21st century soft skills, we help your business to grow successfully and overcome the complex and ambiguous obstacles along the way. We believe in science while praising the human touch. The combination of our serious games with real life coaching and workshops really makes the difference. Not sure how? Read more about our SkillFull solutions!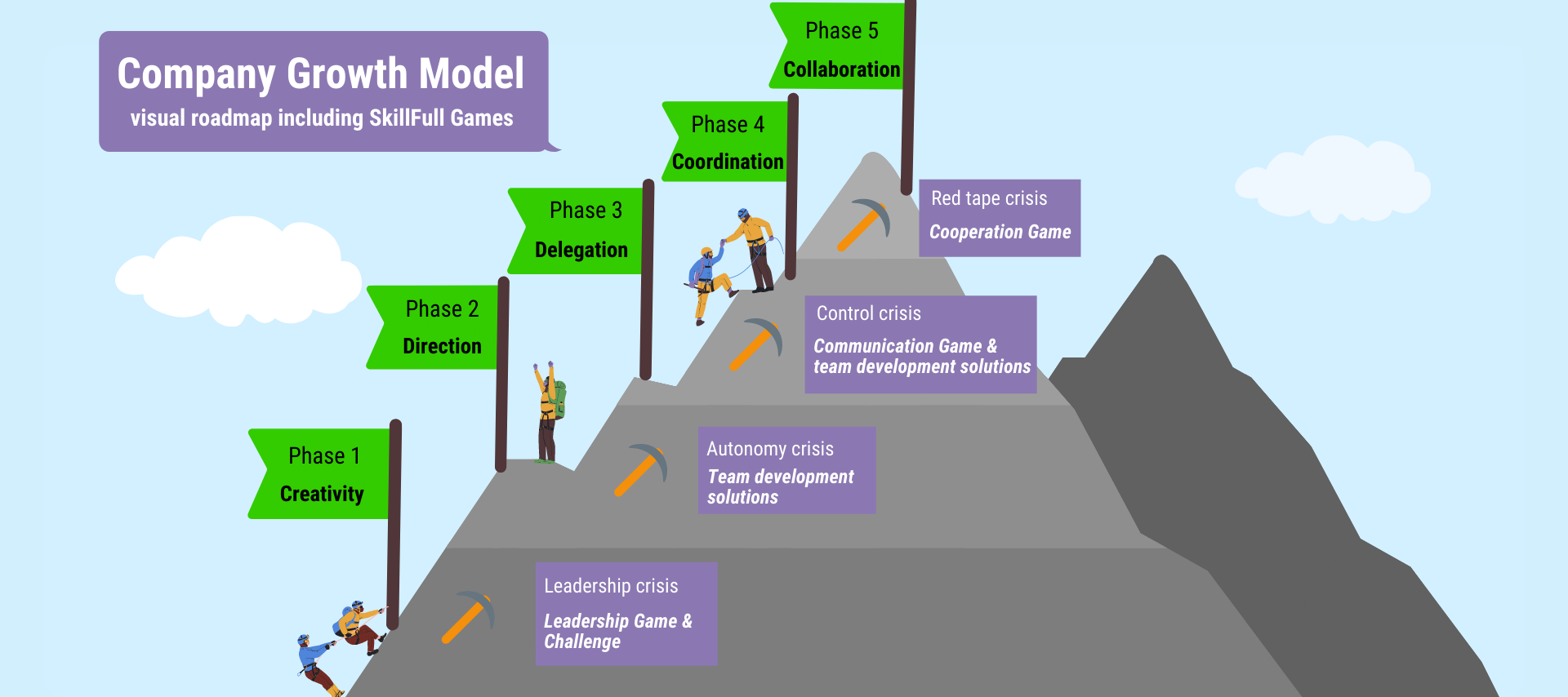 Our solutions tap into the idea of the organisational growth model: an organisation goes through several successive phases that are changed by a short crisis during its growth. Insight into the phases of growth and crisis helps organisations respond effectively to it. Does your management need to become more versatile and divers, to adapt to the future growth? Our leadership challenge helps management teams to enhance their leadership versatility. Is your company in a crisis of control? Our communication game helps your employees enhance interaction and optimise delegation. Do your teams lack the right competencies to collaborate effectively? Then our cooperation game is just what you need! With our learning solutions successful growth becomes logic and, above all, fun!
Strategic Partnership
How do you know in which growth phase your team or company is? With the unique tooling of Human Insight we deliver a full-service solution that let you effectively grow your company. 
Book a demo!
Interested in a meeting to discuss the needs of your company? And learn more about our creative solutions that tackle each crisis single-handedly? Book an initial call with one of our experts here.
The facts clearly speak for themselves! The LinkedIn report 2021 highlights interesting changes in employee learning and development: in the 3-year trend, 59% of talent developers spend more of their budget on online learning and 39% spend less on instructor-led training.
Besides that, we see shifts in the perception of workplace learning. The new generation of employees proactively voice the need to learn and are willing to invest in their professional learning to meet their career goals. SkillFull game-based learnings are a perfect solution, as they are engaging and highly rated by users. Still not convinced? Get in contact with us and we can tell you how we play our game!
INTERESTED IN OUR INNOVATIVE SOLUTIONS?
Clients & learning partners that we are proud of